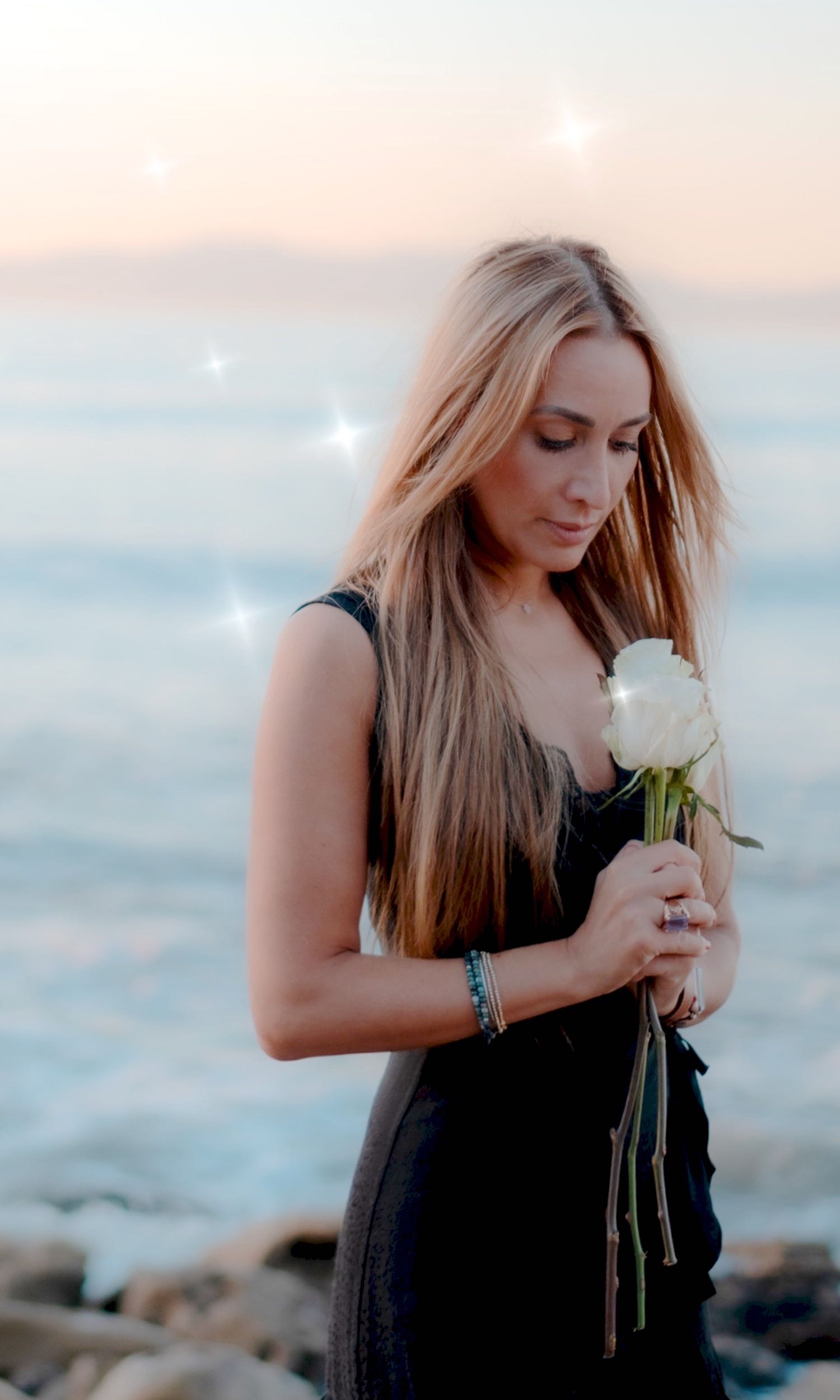 I'M SO HAPPY YOU ARE HERE!
I am Lisa Santine.
I am so honored that you are here. I am an empath, an intuitive, an astrologer, a tarot card reader, a crystal collector, and most importantly, a believer that if you do anything with passion and love, it will not only inspire others, but it will help make the world a more beautiful place.
A little bit about me… Along with my spiritual gifts, I am also an architect, an interior designer, and an artist. My love and desire to seek a connection with my inner wisdom started when I used to sneak into the 'new age' section of the local bookstore where I grew up, in Bloomfield Hills, Michigan. I would select my favorite 'new age' book, sit on the floor, and get lost in my own beautiful world for as long as my dad would allow. This love and desire to understand the spiritual realm only grew stronger as I started to understand life and how to navigate through our human world. I started to feel that it was this connection to my Higher Self that allowed me to access my true creativity and tap into my higher wisdom.
TOGETHER, WE CREATE MAGIC!
After many years of developing my passions, as well as years and years of inner work and healing, I decided to launch this site. I believe we are all here to serve a purpose, and I have found mine. My journey has not come easy. After a series of very significant and life altering events that started in August of 2017, I grew stronger and stronger in my own spiritual practice. And this lead me to the exact place I am right now.
I have been trained in developing my intuitive skills throughout the years, through courses and certifications in mediumship, astrology and tarot. I use these, as well as other divination tools, to really help myself, my family, and my friends move forward and wake up to their divine purpose in life while forging ahead in the direction they are lead to move. I would love to offer this to you.
It has taken me several years to 'come out' and let the world know who I really am. And this is the perfect time, place, and outlet to do this.
Along with launching my dream website, I have also held the strong intention to design and publish my own tarot deck. 2020 is the moment this is supposed to happen for me.
This entire site is dedicated to you. I am so excited to share my passion with you.
I am here for you and with you.
Please reach out to me anytime. My purpose is to spread love, joy and truth throughout world. We are powerful in who we are when we are guided by our truth and love.. And together, we can create the world we have been incarnated to live.
Together, we create Magic!


I would love to talk to you… about YOU. In this one on one consultation, I will give you information about your personality, relationships, career, and life events. Astrology can be used as a predictive tool, but it can also be use as a tool of self-improvement and…
Tarot can be looked at as a reflection of our story, and a key to our inner wisdom. Our karmic lessons can be found in each of the 78 cards. I will consult with the cards, and unfold your story which will be revealed by tapping into the collective wisdom…
We are all spiritual beings having a profound human experience. We often need to go deeper into our understanding of what it means to be a human. I would love to have that conversation with you. Each session is unique and based on your personal goals…
(Actually, the three things I cannot live without are:
Coffee, perfume, and candles…in that order!)